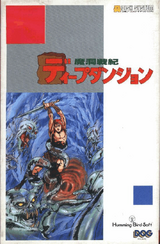 Madoū Senki: Deep Dungeon (魔洞戦記 ディープダンジョン?, lit. The Hell Cave of the Military History: Deep Dungeon), also called Deep Dungeon: Madou Senki, According to Square Enix, it was the first 3D dungeon crawler RPG for the Famicom console.
This article about Square-related Game is a stub. Help out by expanding it.
Ad blocker interference detected!
Wikia is a free-to-use site that makes money from advertising. We have a modified experience for viewers using ad blockers

Wikia is not accessible if you've made further modifications. Remove the custom ad blocker rule(s) and the page will load as expected.