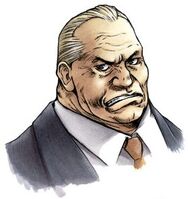 The current chief of the 17th Precinct of the NYPD police. He is 41 years old and a good friend of Daniel who started his career with him. As the two continued their professions, however, they developed different viewpoints on how to handle crime. This resulted in Baker shifting towards desk and overseer work, gaining him chief status, whilst Daniel went towards more active police positions and investigations. Despite their differences, Daniel and Baker later reconcile.
Ad blocker interference detected!
Wikia is a free-to-use site that makes money from advertising. We have a modified experience for viewers using ad blockers

Wikia is not accessible if you've made further modifications. Remove the custom ad blocker rule(s) and the page will load as expected.