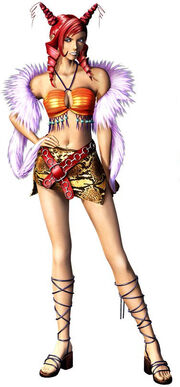 Echidna (real name Aena Paula) is a character from The Bouncer.
S Rank (Max) Stats
Edit
200 Life
175 Power
205 Defense
Vital Statistics
Edit
Age: 25
Height: 5'6"
Fighting Style: Capoeira
A supervisor in the Mikado Group. She is arrogant, and hates to lose. She boasts a flamboyant outfit wearing black sandals and a unique hairstyle. Echidna has some sort of history with Volt.
Backstory
Edit
Game Info
Edit
Echidna fights the player multiple times throughout the game, sometimes with robots to support her. While she is not very strong, she has a number of erratic moves that can score several hits if they are not blocked.
Ad blocker interference detected!
Wikia is a free-to-use site that makes money from advertising. We have a modified experience for viewers using ad blockers

Wikia is not accessible if you've made further modifications. Remove the custom ad blocker rule(s) and the page will load as expected.