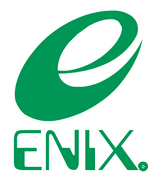 The Enix Corporation (株式会社エニックス, Kabushiki-gaisha Enikkusu) was a Japanese company that produced video games, anime and manga. The company was founded by Yasuhiro Fukushima on September 22, 1975 as Eidansha Boshu Service Center (株式会社営団社募集サービスセンター, Kabushiki Gaisha Eidansha Boshū Sābisu Sentā) and renamed Enix in 1982. The name is a play on the words "phoenix", a mythical bird that is reborn from its own ashes, and "ENIAC", the world's first digital computer.
Enix is perhaps best known for publishing the Dragon Quest series of role-playing video games. The company merged with Square in 2003 to become Square Enix.
Ad blocker interference detected!
Wikia is a free-to-use site that makes money from advertising. We have a modified experience for viewers using ad blockers

Wikia is not accessible if you've made further modifications. Remove the custom ad blocker rule(s) and the page will load as expected.