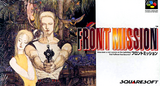 Front Mission (フロントミッション, Furonto Misshon?) is a tactical role-playing game developed by G-Craft and published by Square Co., Ltd., and was released in Japan on February 24, 1995 for the Super Famicom. Front Mission is the first main entry and the first entry overall in the Front Mission series.
Front Mission is part of a serialized storyline that follows the stories of various characters and their struggles involving mecha known as "wanzers". A direct port of the game was released for the WonderSwan Color in Japan on July 12, 2002.
An enhanced remake of the game developed by Square Enix Co., Ltd. was released for the PlayStation in Japan on October 23, 2003, titled Front Mission First. This version of the game received an enhanced port that was released on the Nintendo DS in Japan on March 22, 2007. Only the Nintendo DS port, renamed as Front Mission, was released in North America on October 23, 2007. This release marked the third time that a Front Mission title was localized and published outside of Japan.
Ad blocker interference detected!
Wikia is a free-to-use site that makes money from advertising. We have a modified experience for viewers using ad blockers

Wikia is not accessible if you've made further modifications. Remove the custom ad blocker rule(s) and the page will load as expected.