Illusion of Gaia (ガイア幻想紀 Gaia Gensōki?, lit. "Records of the Illusion of Gaia"), known in Europe as Illusion of Time, is an action role-playing game that was released on September 1, 1994, for the Super NES (SNES). It was developed by Quintet. Enix published the game in Japan, and Nintendo published it worldwide. The Australian PAL release was in fact a North American localization and was converted to PAL format and released in Australia as Illusion of Gaia, a rarity for Nintendo Australia which usually rely on European PAL versions, despite the OFLC website stating it was classified as Illusion of Time. Illusion of Gaia was scored by Yasuhiro Kawasaki. Moto Hagio the influential manga artist is credited with the character designs. Novelist Mariko Ōhara worked on the story. It is considered by fans to be the second part of the Gaia trilogy.
Characters
Edit
Will - The hero and son of Olman the late explorer. Will finds out that he has the power to change his form into Freedan, an ancient knight, and Shadow, a powerful shapeshifter.
Erik - Will's young friend with bladder problems.
Kara - The princess of Edward Castle who becomes involved in Will's journey after running away. She has a pet pig named Hamlet.
Lance - Will's best friend, his father was lost in the Tower of Babel.
Seth - a scholarly boy, Seth's future looks unexpectedly bleak.
Lilly - A native of Itori Village, she has the power to turn herself into a dandelion.
The Jackal - a hunter hired by Kara's mother to track Kara down and bring her back home.
Dark Gaia - the antithesis of the mother spirit that has been aiding Will on his journey. She seeks to destroy all life and turn everything that exists into demons.
Video Gallery
Edit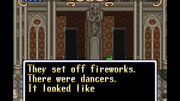 Ad blocker interference detected!
Wikia is a free-to-use site that makes money from advertising. We have a modified experience for viewers using ad blockers

Wikia is not accessible if you've made further modifications. Remove the custom ad blocker rule(s) and the page will load as expected.