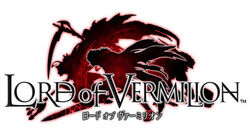 Lord of Vermillion is an Square Enix arcade game. It utilizes physical cards of creatures from various Square Enix games during play, mostly from the Final Fantasy series, where players can fight using the creatures represented in the various cards. It spawned a spin-off, named Lord of Arcana. Lord of Arcana received a sequel named Lord of Apocalypse, to be released in Japan in late December 2011.

The cards are made up of creatures and characters from games of Square Enix. These cards are designed by illustrators from games such Yoshitaka Amano, Ryoma Ito, Akihiko Yoshida and Hideo Minaba, among others.
Other pictures
Edit
External links
Edit
Ad blocker interference detected!
Wikia is a free-to-use site that makes money from advertising. We have a modified experience for viewers using ad blockers

Wikia is not accessible if you've made further modifications. Remove the custom ad blocker rule(s) and the page will load as expected.