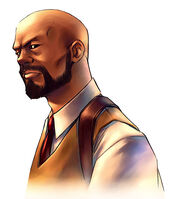 In Parasite Eve II, Aya departed the NYPD police out of respect for her comrades due to the awakening of her mitochondrial powers and joined a group called "MIST" (Mitochondrion Investigation and Suppression Team). Somewhat replacing Daniel Dollis as the supporting character, Rupert is Aya's new partner and provides back-up, saving her from a surprise attack from a ANMC stranger in the beginning of the game.
According to his back-story, he fights along with MIST because of an NMC attack on his family, slaughtering his wife and child.
Ad blocker interference detected!
Wikia is a free-to-use site that makes money from advertising. We have a modified experience for viewers using ad blockers

Wikia is not accessible if you've made further modifications. Remove the custom ad blocker rule(s) and the page will load as expected.