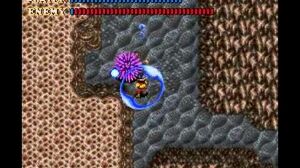 Soul Blazer, known in Japan as Soul Blader (ソウルブレイダー Sōru Bureidā?), is a Super Nintendo Entertainment System action role-playing game developed by Quintet and published by Enix (now Square Enix). Soul Blazer was released on January 31, 1992 in Japan, on November 27, 1992 in North America, and on January 27, 1994 in Europe. Similar to the company's previous game ActRaiser, the player takes the role of a divine angel, deity or lesser-deity, or avatar, sent by a divinity, called The Master, to destroy monsters and release the captured souls of a world's inhabitants. Soul Blazer was scored by Yukihide Takekawa. It is considered by fans to be the first part of the Gaia trilogy.
Ad blocker interference detected!
Wikia is a free-to-use site that makes money from advertising. We have a modified experience for viewers using ad blockers

Wikia is not accessible if you've made further modifications. Remove the custom ad blocker rule(s) and the page will load as expected.