You are welcomed to add any Image you feel fitting to be featured in the Main Page. To add, copy the coding below, click edit this page, and change the (FILENAME), (FORMAT) and (ARTICLE) as required. Please do not change the other parameters.

 <option>[[File:(FILENAME).(FORMAT)|200px|border|center|link=(ARTICLE)]]Description with [[(ARTICLE)]] link</option>

Example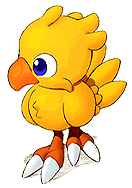 The Chocobo series stars the stalwart yet adventurous yellow Chocobo that is recognized as one of the mascots of the Final Fantasy series.
Ad blocker interference detected!
Wikia is a free-to-use site that makes money from advertising. We have a modified experience for viewers using ad blockers

Wikia is not accessible if you've made further modifications. Remove the custom ad blocker rule(s) and the page will load as expected.