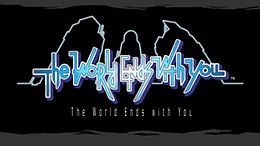 The World Ends with You is a series by Square Enix.
The World Ends With You, known in Japan as Subarashiki Kono Sekai (すばらしきこのせかい: It's a Wonderful World), is an action RPG released for the Nintendo DS console. Character designs are by Tetsuya Nomura and Gen Kobayashi.
The Japanese version was released on July 27, 2007, the European on April 18, 2008, and the North American version on April 22, 2008.
Is a spin off of the series, it was realesed in May 2013 but has been deleted in 2014.
Is a remake of the first title, it was realesed in August 2012 for iOS and Android.
In other media
Edit
The series has adopt into a manga called It's A Wonderful World. You can read it here.
Ad blocker interference detected!
Wikia is a free-to-use site that makes money from advertising. We have a modified experience for viewers using ad blockers

Wikia is not accessible if you've made further modifications. Remove the custom ad blocker rule(s) and the page will load as expected.