Valkyrie Profile (ヴァルキリープロファイル, Varukiri Purofairu?) is a console role-playing game developed by tri-Ace and published by Enix (now Square Enix) for the PlayStation. It was released on December 22, 1999 in Japan and on August 29, 2000 in North America. An enhanced port of the game was later released for the PlayStation Portable under the name Valkyrie Profile: Lenneth on March 2, 2006 in Japan, July 18, 2006 in North America, and April 27, 2007 in Europe. A sequel, Valkyrie Profile 2: Silmeria, was released in 2006.
Characters
Edit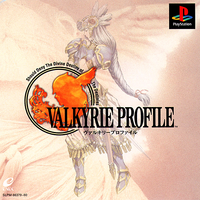 The game is loosely based on Norse mythology, where players assume the role of a valkyrie who recruits and prepares the souls of fallen warriors (Einherjar) before sending them to Valhalla for a final apocalyptic battle between the Æsir and Vanir: Ragnarok. Along the way, she uncovers the tragic events of her own hidden past.
Reception and Legacy
Edit
The game was both a commercial and critical success, spawning a few related titles on different consoles. A PlayStation 2 sequel, titled Valkyrie Profile 2: Silmeria, was released in 2006 in Japan and North America, and 2007 in Europe. Valkyrie Profile: Covenant of the Plume for the Nintendo DS was released in Japan in 2008, March 17, 2009 in North America and on April 3, 2009 in all PAL regions.
Ad blocker interference detected!
Wikia is a free-to-use site that makes money from advertising. We have a modified experience for viewers using ad blockers

Wikia is not accessible if you've made further modifications. Remove the custom ad blocker rule(s) and the page will load as expected.